Ecstacy Artist Promotions ; Classical Music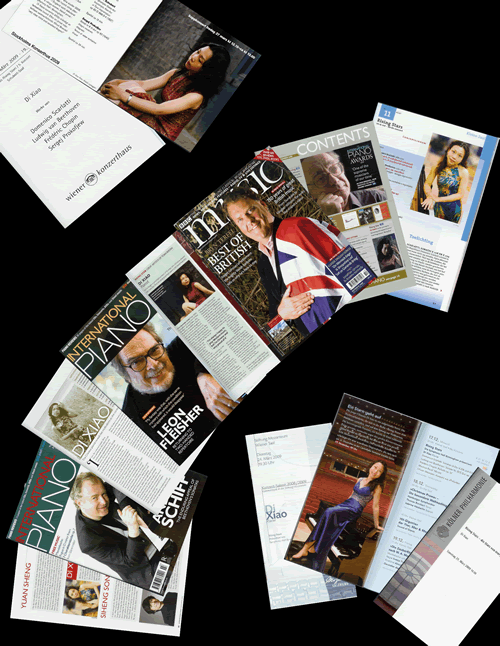 'She [Di Xiao] has fine technique, wide-ranging repertoire, an extremely pleasant platform manner and the personal qualities and capacity to really engage with an audience.'
Andrew Jowett, Director: Symphony Hall/Town Hall Birmingham UK
'Very clear mind and excellent fingers!'
Alfred Brendel
'The Chinese pianist Di Xiao presents a demanding programme consisting of Beethoven, Chopin, Ravel and Messiaen that takes your breath away'.
Kölner Philharmonie
'A stunning concert . Di Xiao's playing combined power and delicacy, her exceptional talent received long applause from the audience at [the] Symphony Hall Birmingham.'
UK Chinese Times
'A deft touch to marvel at' (Following a performance of Beethoven Concerto No 4 with The Sinfonia of Birmingham.)
The Birmingham Post
'In the technically much more difficult »Mirrors« by Ravel and in the selection from Messiaen´s »Eight Preludes« after the interval we experienced an artist who is absolutely at one with what she is playing. Ravel´s »Sad Birds« became a fascinating, finely detailed study of the different tonal colours available on the piano and Messiaen´s harmonic »stained glass church windows« glittered flamboyantly under Di Xiao´s hands'
Hamburger Abendblatt
'A piano recital which began with such a serene entrance from the soloist ended with whoops cheers and a standing ovation . What happened in between was entirely due to the quietly impressive musicianship of Di Xiao .'
Christopher Morley; The Birmingham Post
'Sparkling finger-work (Tchaikovsky; The Seasons), Brutal (Prokofiev; Sonata No6), a tranquil end to a mature performance (Chinese folk-song; Autumn Moon on a Calm Lake)'.
Clive Peacock; Leamington Courier
'A pianist of awesome gifts, her imperious opening flourish [Schumann Concerto] announced a capacity for full, rich chording. But there was also flowing, rippling figuration as she revealed her instinctive grasp of this wonderful work. In her graceful, dancing finale it was easy to imagine Clara Schumann at the keyboard, Di Xiao's profile and demeanour uncannily close to those of the great lady herself.'
The Birmingham Post